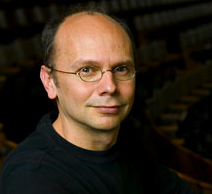 Thank you very much for attending the inaugural concert in our Beethoven Digital Symphonies Series. As a small token of appreciation, we're happy to offer you these recordings from that historic evening. As you know, it was the first time a Beethoven symphony was played in a live concert with a digital orchestra.
To get your free download, visit InstantEncore and enter your download code (printed in your concert program). Enter it in the upper right corner of the web page.
If you'd like to know about our upcoming concerts, just let us know and we'll add you to our announcement list.
Enjoy!
– Paul H. Smith
Concert 1
May 20, 2009
Holy Name Church, West Roxbury, Massachusetts
Tom Myron
Two Arias from Iphigenia at Aulis
Tynan Davis, mezzo soprano
II. Mother, why are you silent?
III. Lead me on, destroyer of Illium's city
George Frideric Handel
'Ombra mai fu' from Xerxes
Tynan Davis, mezzo soprano
Ludwig van Beethoven
Symphony No. 1 in C, op. 21
I. Adagio molto – Allegro con brio
II. Andante cantabile con moto
III. Menuetto: Allegro molto e vivace
IV. Adagio – Allegro molto e vivace
Order a full quality audio CD of the
concert for $12.95 (plus $5 s/h)
http://www.fauxharmonic.com/wp-content/uploads/fauxharmonic-logo-color-trans-400x153.png
0
0
Paul Smith
http://www.fauxharmonic.com/wp-content/uploads/fauxharmonic-logo-color-trans-400x153.png
Paul Smith
2009-05-25 22:37:02
2011-07-28 14:14:26
Free Recording Download: May 20, 2009