2007 Adagio Composition Contest Winner
Recorded live, in concert, with the Baltimore Chamber Orchestra, November 6, 2008. "Gridley Paige Road" was selected as the grand prize winner from over 160 worldwide entries to the 2007 Adagio Composition Contest.
About the piece
"This piece was inspired in part by memories of my childhood years living on Gridley Paige Road, a rural road set amid farmland, woods and fields in central New York state. Originally composed for string quartet, this movement was premiered by the Avalon Quartet in Merkin Concert Hall, New York, in May of 2003. In 2005, three more movements were added and Gridley Paige Road became the first movement of my String Quartet No. 1. The full quartet was premiered in Merkin Concert Hall by members of the International Contemporary Ensemble (ICE) in April of 2005. This movement was then orchestrated for string orchestra in March 2007."
About the composer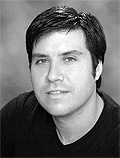 The music of composer-pianist Matthew Quayle (BMI) spans a wide range of styles and genres, from concert orchestral works to musical theater comedy. His music has been performed by eighth blackbird, Alarm Will Sound, the Southeastern Trio, the Avalon String Quartet and the Arditti String Quartet. Quayle has also received commissions from the Almeida Theatre in London, the New London Children's Choir, and flautist Claire Chase with the International Contemporary Ensemble.
In 2006 his Sun Dance, commissioned by saxophonist Gail Levinsky, was performed at the North American Saxophone Alliance (NASA) Conventions at Penn State University and UNC Greensboro. He composed the introduction to the 'Round Midnight Variations, a collection of variations by prominent contemporary composers on the Thelonius Monk theme; this work was premiered by pianist Emanuele Arciuli at New York's Miller Theater in 2002. Quayle frequently performs as a piano soloist and chamber musician. Recent collaborations have included recitals with clarinetist Deborah Andrus and cellist Jameson Platte. In 1998 he performed his Concerto for Piano and Orchestra with the Oberlin Chamber Orchestra, as winner of the Oberlin Conservatory Concerto Competition.
Quayle is a doctoral candidate at New York University (GSAS) and holds degrees from Oberlin Conservatory and the University of Cincinnati. He has been on the faculty at New England Music Camp in Sidney, Maine since 2002. From 2005 to 2006 he was a keyboardist and songwriter for the pop-rock sextet If I Told Napoleon. A native of Waterville, New York, he has recently moved from New York City to North Carolina, where he is Lecturer at the University of North Carolina at Greensboro.
http://www.fauxharmonic.com/wp-content/uploads/fauxharmonic-logo-color-trans-400x153.png
0
0
Paul Smith
http://www.fauxharmonic.com/wp-content/uploads/fauxharmonic-logo-color-trans-400x153.png
Paul Smith
2007-08-09 15:22:57
2012-11-26 14:48:35
"Gridley Paige Road" - by Matthew Quayle